Being able to communicate with locals can significantly enrich your experience abroad and also less likely to get ripped off. Are you eager to get started but don't know how? Here's a series of both online and offline tools that you can use to learn German language fast.
1. Join A German Community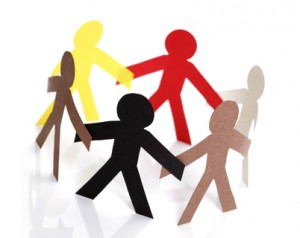 There are plenty of online communities on various social networking sites full of people who are anxious to start practicing the languages they've been learning. It's a fun way to meet people of similar interests, and also a safe place to practice speaking and typing your German as well. (Plus, many of your fellow students won't penalize you for errors because, like you, they're still learning!)
www.aboutgerman.net offers many resources and links to help you learn both the language and the culture.
2. The Immersion Technique
Immerse yourself in all things German! There are plenty of ways to get your German fix that allow you to adjust your ear to the sounds of the language, and familiarize yourself with the vocabulary and grammatical structure. Simply sit back and watch one of the many popular German television shows, or read a German newspaper. Newspapers are often written to a relatively simple reading level, so they are good way to familiarize yourself with written German when you are just starting out.
Some good online newspaper sites:
– Bildzeitung (biggest boulevard newspaper in Germany): www.bild.de
– Frankfurter Allgemeine Zeitung (most renowned German newspaper): www.faz.net
– Der Spiegel (most popular weekly news magazine in Germany): www.spiegel.de
German music is also an incredibly popular tool for immersion, and its styles vary widely. German musicians have offered the world such great work as the hauntingly beautiful "Der Erlkönig" by Franz Schubert, the new wave pop of Nena, and the intense industrial rock of Rammstein. With so many different styles to choose from, chances are good that there is some form of German music that will appeal to you if you only look. And by simply listening, you will learn and improve your German.
3. Download Apps
This is a no brainer: People learn best when they are having fun because the human brain doesn't fight something that doesn't feel like a chore. So when it comes to learning German, use the technology available that is designed to help you learn languages while doing something that just feels like playing games. There are numerous apps, like "MindSnacks German" and "Duolingo," that are available to play on computers, tablets and smart phones. These programs allow you to have fun playing games while practicing German.
Translation apps such as "LEO" also come in handy when you come across new words.
4. Find A German Language School
German is an immensely popular language, because of the increase in migrants moving to German-speaking countries to live. It is also a useful language in the modern world of global business. As a result, German language classes are available in many different locations in different countries. Students can learn in person at schools, or online, often at their own pace. These courses are extremely helpful learning tools because they are thorough and highly structured, so you know you're going to get your money's worth.
If you are interested in studying German in Singapore, do drop us a message to find out more about our courses on our enquiry form.