How do you tell when Autumn has kicked in?
When the temperature is just about right and you see crowds heading to the nearest local wine festival, that's when you know it's Autumn in Germany.
The locals call these last warm days "Altweibersommer" as it signifies the few lovely days between summer and autumn. And the best part about this delightful season of golden trees and cosy weather is that it's the perfect time for local festivals to be in full swing.
Autumn festivals in Germany
1) Pumpkin Festival, Ludwigsburg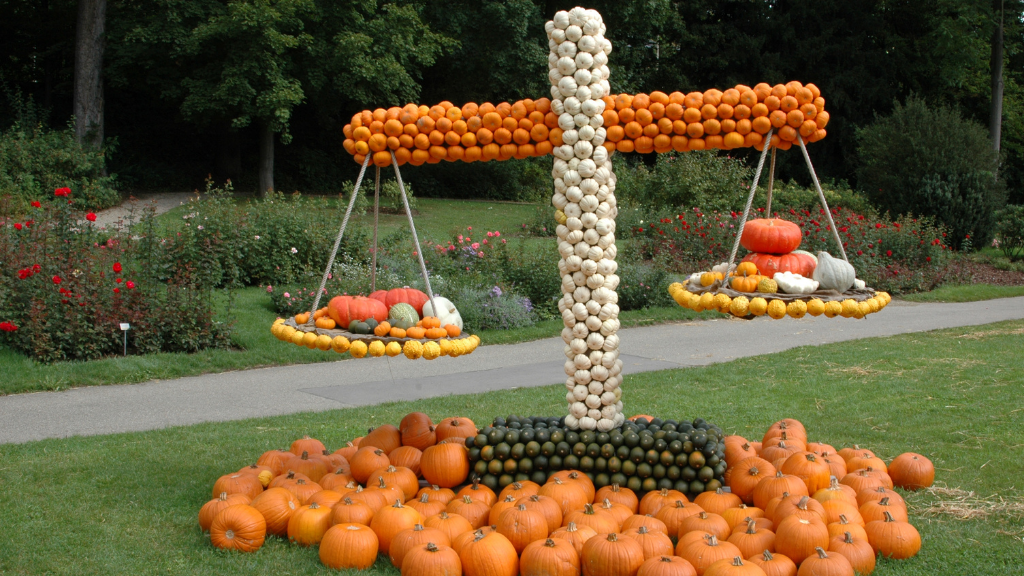 We've shown you the largest sailing event and open-air music festival in our previous article. But have you ever heard of the largest pumpkin festival in the world?
Held on the grounds of the Residential Palace in Ludwigsburg, you can find pumpkins of different shapes, colours and sizes beautifully decorated into big colourful sculptures. Marvel at the sight of the largest pumpkin in the world, paddle a canoe made out of hollowed-out pumpkins and have all the pumpkin-flavoured food you can eat when you visit this festival.
2) Wurstmarkt Weinfest, Bad Dürkheim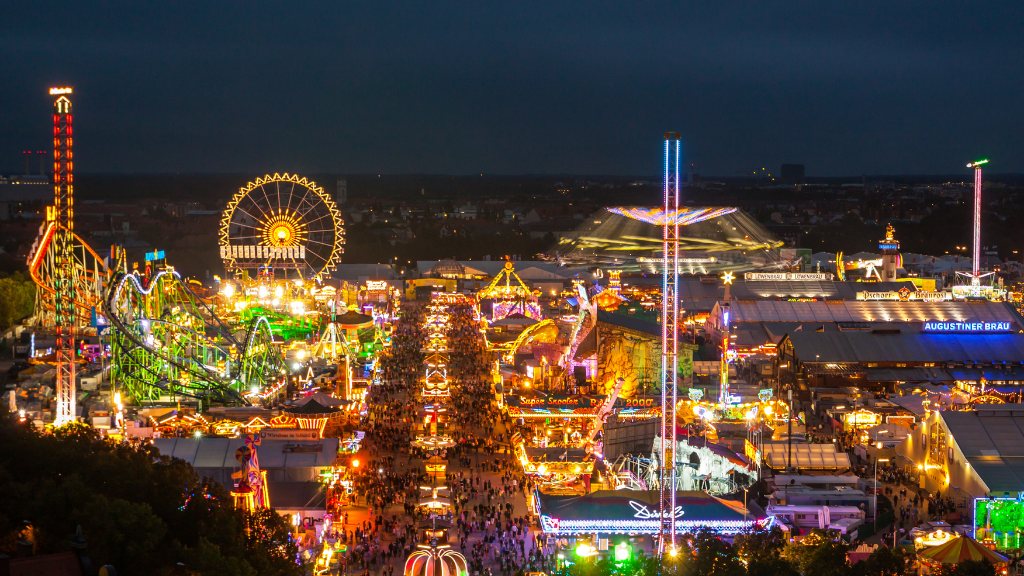 With over 600 years of history, Dürkheim Wurstmarkt is the oldest and largest wine festival in the world. This traditional festival is usually held for two weeks in September and is frequented by over 600,000 people every year. Try all the hundreds of varieties of wine and eat some of the best food when you visit this fair.
3) Day of German Unity
The German Unity Day falls on October 3 every year. This is a national holiday to commemorate the reunification of East and West Germany. This day is celebrated with a three-day festival around Platz der Republik at the Reichstag and the Brandenburg Gate with parades, live performances, art showcases and more.
4) Festival of Lights, Berlin
Every autumn, more than 45 of Berlin's iconic landmarks and historic buildings, including the Brandenburg Gate, Museum Island and Berlin TV Tower, will be illuminated at night. This festival is one of the most famous lights art festivals in the whole world and sees participation from local and international artists. Be amazed at the grand light shows and projections when you visit Berlin at this time.
5) Oktoberfest, Munich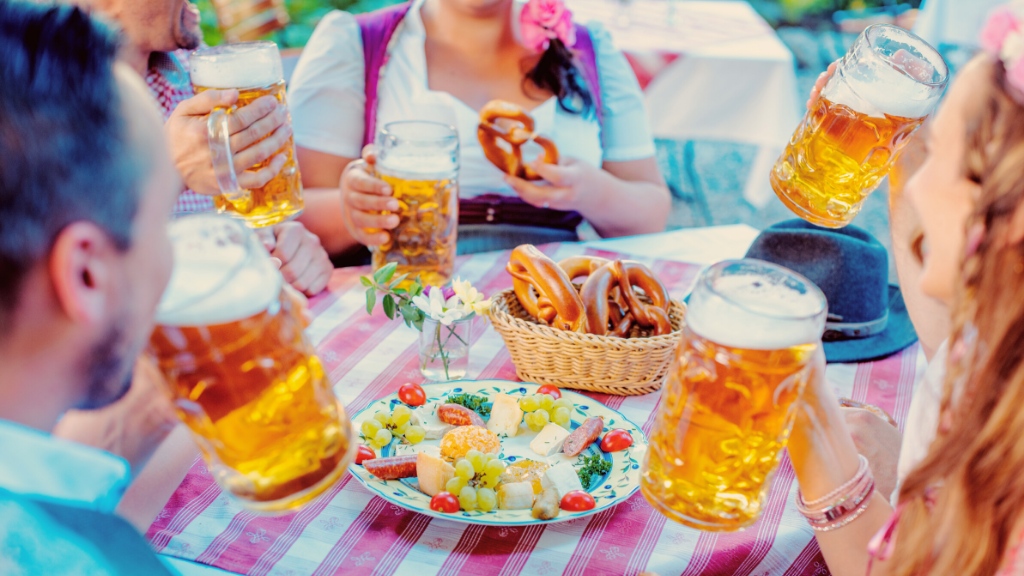 When we talk about festivals in Germany, how can we not talk about the biggest one of the year, Oktoberfest?
Oktoberfest takes place in Munich for about two weeks—from late September to early October. During this festival, expect fully-booked flights and fully-occupied hotel rooms because this festival attracts more than 6 million people every year. However, due to the pandemic, for the first time since World War II, this festival was cancelled last year.
You can see people dressing up in traditional garments drinking beer and eating roasted chicken when you visit this folk festival. And there are 14 main beer tents to choose from ranging from party tents to family-friendly tents.
Where can you celebrate Oktoberfest in Singapore?
Did you know that Oktoberfest is celebrated in Singapore too? This is thanks to the close relationship built between the two countries. To read more on Germans in Singapore, click here.
Before the pandemic, Singaporeans would usually celebrate Oktoberfest by partying in a city tent, celebrating at beach bars, watching German music performances, taking part in beer drinking competitions, feasting on German delicacies, and watching traditional German waltzes, polkas and marches.
Although Oktoberfest is cancelled this year and we can't party in a tent like we used to, many establishments in Singapore still serve delicious German cuisines in times of Oktoberfest. Here are some of the places that you can visit if you wish to feast on giant pretzels, roasted chicken, grilled pork and chug on lots and lots of beer:
Crossroads at Singapore Marriott Tang Plaza Hotel 
Frieda at Capitol Kempinski 
Paulaner Bräuhaus Singapore 
But hey, if eating out is not an option for you, you can also dine in and celebrate at home. Have your food delivered to you, crack open some beers and say "Prost!" as you raise your glasses!
So, what say you? Are you excited to celebrate Oktoberfest this year? Click on the links here if you haven't read our articles on spring and summer festivals in Germany.
Interested in learning German before you pack your bags and travel to Germany? You can learn German at https://www.learngerman.com.sg/. To find out more about our classes, get in touch with us now!
References
Day of German Unity Celebrations. (2021, February 23). Berlin.De.
https://www.berlin.de/en/events/2716319-2842498-day-of-german-unity.en.html
Dürkheimer Wurstmarkt – Wine festival in Bad Dürkheim, September 2021. (2021, April 27). 
AllExciting. https://allexciting.com/durkheims-wurstmarkt/
Fang, J. (2020, September 16). Where to celebrate Oktoberfest 2020 in Singapore. SilverKris. 
https://www.silverkris.com/celebrate-oktoberfest-2020-singapore/
H. (2020, September 8). The Best Fall Festivals in Germany. Helene in Between.
https://heleneinbetween.com/2017/09/best-fall-festivals-germany.html
Kürbisausstellung – Pumpkin Festival Ludwigsburg. (2021, July 22). Moving to Stuttgart, 
Germany. https://movingtostuttgart.com/event/kurbisausstellung-pumpkin-festival-ludwigsburg/
Phneah, E. (2020, April 3). 5 Best Places to Celebrate Oktoberfest 2017 in Singapore. TripZilla. 
https://www.tripzilla.com/5-best-places-celebrate-oktoberfest-2017-singapore/68668
Porter, E. (2020a, September 17). Everything You Need to Know About Oktoberfest. TripSavvy. 
https://www.tripsavvy.com/everything-to-know-about-oktoberfest-1520075
Porter, E. (2020b, October 10). Autumn in Germany: Weather, What to Pack, and What to See. 
TripSavvy. https://www.tripsavvy.com/germany-in-fall-1520234
Tan, J. (2020, October 6). Where to celebrate Oktoberfest 2020 in Singapore. Lifestyle Asia 
Singapore. https://www.lifestyleasia.com/sg/food-drink/drinks/oktoberfest-singapore-2020/